WSIB REHABILITATION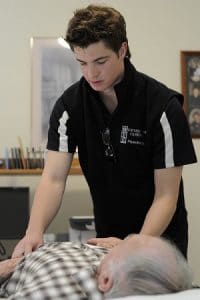 You might have been recently involved in an accident at work or suffered major and minor injuries! It is not a surprise that you would now be seeking physiotherapy treatment. Most work related injuries and workers are covered by the provincial Workplace Safety and Insurance Board regulations, or simply put the WSIB regulations.
Don't let a minor workplace accident hold you back from life.
File a report as soon as possible and seek help under WSIB at Stay Fit Physio today!
Our goal is to help you lead a better life!
Stay Fit Physio is a registered WSIB Injury physiotherapy service provider offering you full access to WSIB physical rehabilitation services and legal claims. Our primary goal is to aid you and help you make your life easier and the process as simple as it can be. Our active approach helps restores functional balance of your body along with improving the overall health and fitness quotient for your individual self, so you can easily get back to leading a normal, happy life in both your personal and professional sense. No matter what is the reason of your workplace related injury – accident or overuse, our physical therapy programme developed to meet the specific needs of workers in Ottawa will help you out in wonderful ways:
We will help you relieve your pain
We help you improve your body strength and flexibility
We help you improve your body's functional balance and abilities
We will help you return to your work and normal life faster than ever
We offer you essential ergonomic advice that helps you recover
The most common WSIB injuries we come across:
Neck and back injury
Shoulder injury
Muscle tear, bursitis and tendonitis injury
Knee injuries
Ankle sprains
Fractures
TMJ dysfunctions
Headaches and head related injuries
Work-related motor vehicle accidents
Elbow injuries
Wrist injuries
Carpal tunnel syndromes
Strains and sprains
Hip injury
Our WSIB injury physiotherapy service offerings:
We offer you an initial assessment post your workplace accident. We also offer you regular assessments to monitor your rehabilitation progress
An elaborate therapeutic and rehabilitative programme that is tailor-made to suit your intricate needs
A wide variety of modality and manual physical therapies, including Physiotherapy, Massage Therapy, Chiropractic therapy Psychotherapy, Acupuncture, Laser, Orthotics, etc.
Personalised and active rehabilitative programmes to help you return to your pre-accident stage.
Conditioning and hardening programmes to help you return to work as soon and as healthily as possible.
In-home assessments and functional capacity evaluations to help you recover better
We are here to help you!
On the first visit, Physiotherapist performs a detailed assessment, that includes history taking and performing special tests, with the patient and appropriately prepares a treatment plan. Goal are set up by the therapist in conjunction with the patient. Treatment plan may include prescription of exercises, manual therapy/techniques performed by the Physiotherapist and use of modalities like Ultrasound, TENS, IFC.
Stay Fit Physio team is here to help you. Our fully-personalised patient care center in Ottawa will suit your specific needs. If you have been recently involved in a workplace related accident and are suffering to a great extent in both your personal and professional life, our Physical therapists will ensure you get back to the life that is meant for you! Call us today and schedule your appointment.
concussion physical therapy near me | Back pain clinic Ottawa | skin rejuvenation treatments | Laser Hair removal | Massage therapist | Microdermabrasion | ottawa shockwave therapy | WSIB injury physiotherapy | spinal decompression therapy ottawa | tmj physiotherapy clinic ottawa